CINAGE at ShortCutz Lisbon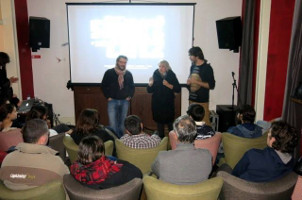 Shortcutz is an international short film movement born in Lisbon, hosting free screenings every week in several European cities.
In Lisbon, the Bica quarter hosts every Tuesday a session of Shortcutz where the screened short films are presented by their creative team.
The sessions act as a showcase for new and existing talent and allow discussion between professionals, students, amateurs and anyone passionate about film.
For the sessions are also invited professionals of the film industry, who share their opinions and stimulate debate with the public. At the end of each month is held a contest to elect the best short-film. The vote is up to a panel of judges made up of personalities from different artistic fields.
CINAGE was the special guest of yesterday's evening session (January 5, 2016) in ShortCutz Lisbon.
In a relaxed atmosphere, there was talk about the project, some CINAGE short-films were screened and have shared up experiences with an attentive and interested audience!